The fabrication process may take about two weeks from the day of templating to installation. The installation is usually done by a 2-man crew and may take a full day.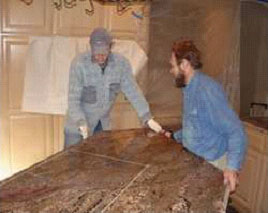 It is very helpful to us that we are able to move around without interruption during this process as the slabs are extremely heavy and difficult to maneuver.
We will set sinks last and ask that they be left untouched for at least 24 hours,  plumbing can be done after the sink is completely bond.
Your new stone surfaces are sealed for protection and easy maintenance; we recommend surfaces to be sealed once a year to avoid  any staining.